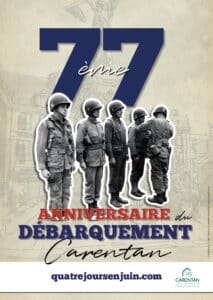 Few or no parties, parades, balls, conferences, concerts, festivals, parachuting, but ceremonies in restricted committee. However, in the spirit as in the will, Carentan and Normandy did not forget. The dates of the first days of June are forever engraved in history and in the collective memory.

This year, internet technology is once again being used to transmit and communicate the same messages of gratitude for the liberators, and to connect all those for whom the sacrifices made 77 years ago mean something.
The 77th anniversary of D-Day will be commemorated in a form far removed from the one usually offered to the inhabitants of Carentan and the thousands of visitors, as evidenced by this poster, which features one of the many emblematic images of the liberation, the awarding of the Silver Star to the four Carentan colonels by General Maxwell Taylor on June 15, 1944.
The website carentan1944.com summarizes in its many sections the legacy of 77 years of memories, gratitude and friendship between nations. Stay connected with us to follow the 77th D-Day Anniversary !
Other articles to consult